Rant n´ Rave
Stray Cats, The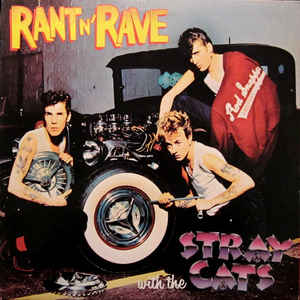 Rant n´ Rave
Stray Cats, The
LP
EMI America SO-7102
1983
1983
1000513236
Vinyl Mycket gott skick
USA-pressning.
Allt går igen, så naturligtvis blev det så småningom en rock-a-billy-revival. Men det amerikanska bandet Stray Cats fick ta omvägen över England och Dave Edmunds för att slå igenom och sedan komma tillbaka och erövra även USA.

"...the Stray Cats' follow up to Built For Speed, sounded identical to Built for Speed, and -- thanks to the hits "(She's) Sexy + 17" and the ballad "I Won't Stand in Your Way" -- it was equally as strong." (Stephen Thomas Erlewine, allmusic.com)
10 spår; speltid 30:37.
Rebels rule
Too hip, gotta go
Look at that Cadillac
Something´s wrong with my radio
18 miles to Memphis
(She´s) Sexy + 17
Dig dirty doggie
I won´t stand in your way
Hotroad gang
How long you wanna live, anyway?
Pris:
90
kr