The Best of the Jazz Trumpets (Sonny Lester Collection)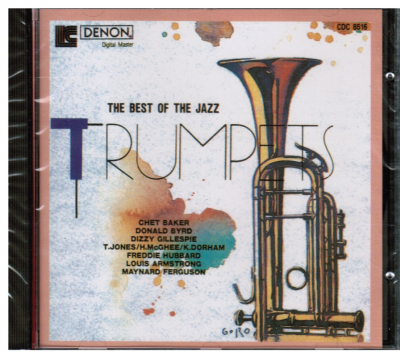 The Best of the Jazz Trumpets (Sonny Lester Collection)
CD
LRC CDC 8516
1958
1989
1000518682
Ny
Inplastad.
En spretig samlingsvolym med framstående jazztrumpetare. En kvartettinspelning med Chet Baker från 1958; Donald Byrd Quintet med bl a Bobby Jaspar ts från samma år; Dizzy Gillespie Quartet 1976; Thad Jones / Howard McGhee / Kenny Dorham Sextet 1961; Freddie Hubbard Quintet 1970, med bl a Eddie Daniels ts; Tre liveupptagningar från 1967 med Louis Armstrongs All Stars, med bl a Tyree Glenn tb; Maynard Ferguson Orchestra 1965.
9 spår; speltid 55:30.
Chet Baker: Milestones
Donald Byrd: More of the same
Dizzy Gillespie: Kush
Thad Jones/Howard McGhee/Kenny Dorham: The theme
Freddie Hubbard: Blues for Duane
Louis Armstrong: Blueberry Hill
-"- : When it´s sleepy time down South
-"- : St James Infirmary
Maynard Ferguson: Got the spirit.
Pris:
100
kr