Hot house flowers
Marsalis, Wynton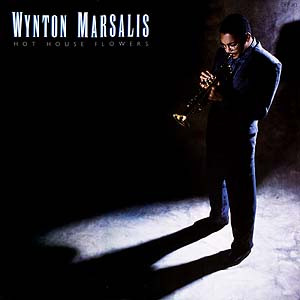 Hot house flowers
Marsalis, Wynton
LP
CBS 26145
1984
1984
1000524478
Vinyl Nära nyskick
Holländsk pressning.
"Den vid detta inspelningstillfälle knappt 23-årige trumpetaren Wynton Marsalis tar sig här an ett knippe välkända standards, mestadels ballader. Med sig har han sin ordinarie kvintett med brorsan Branford Marsalis ts/ss, Kenny Kirkland p, Jeffrey Watts dr, Ron Carter b samt flöjtisten Kent Jordan. Dessutom stråkbakgrunder av en stor studioorkester. Stanley Crouch har skrivit baksidestexten, som fortsätter på innerpåsen.
Wynton Marsalis, very much in his Miles Davis period, plays quite melodically throughout this ballad-dominated outing with strings. Branford Marsalis (on tenor and soprano), flutist Kent Jordan, pianist Kenny Kirkland, bassist Ron Carter, and drummer Jeff Watts are strong assets but it is Wynton's subtle creativity on such songs as "Stardust," "When You Wish Upon a Star," Duke Ellington's "Melancholia," and "I'm Confessin'" that makes this recording special. The arrangements by Robert Freedman generally keep the strings from sounding too sticky and Wynton's tone is consistently beautiful." (Scott Yanow, allmusic.com)
8 spår; speltid 41:33.
Stardust
Lazy afternoon
For all we know
When you wish upon a star
Django
Melancholia
Hot house flowers
I´m confessin´ (that I love you)
Pris:
90
kr