Romances for saxophone
Marsalis, Branford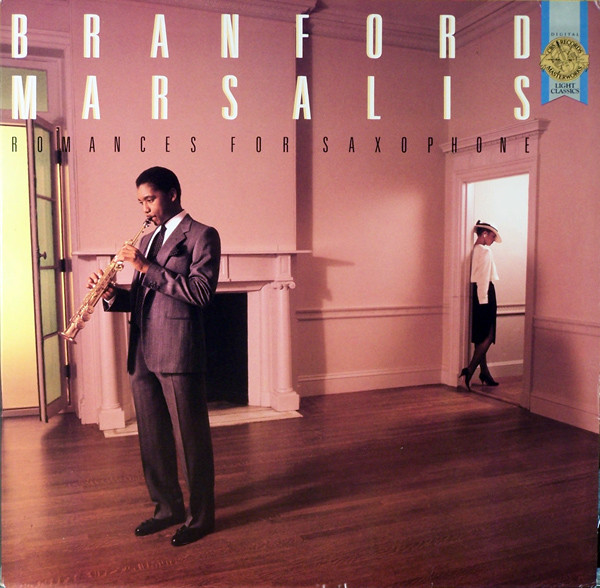 Romances for saxophone
Marsalis, Branford
LP
CBS M 42122
1986
1986
1000524483
Vinyl Nära nyskick
Holländsk pressning.
Den äldste av de illustra Marsalis-bröderna håller sig här till sopransaxofonen i ett antal tolkningar av klassiska stycken. För ackompanjemangen står The English Chamber Orchestra, under ledning av Andrew Litton. De representerade kompositörerna är Debussy, Fauré, Rachmaninoff, Stravinsky, Colombier, Villa-Lobos, Satie, Ravel och Mussorgsky.
"Romances for Saxophone was released in 1986 by CBS Masterworks' Light Classics division. Branford Marsalis, usually known for his jazz background, asserts his mastery of the soprano saxophone on this excellent collection of romantic chamber music. Accompanied by the English Chamber Orchestra, Marsalis indulges us with some of his most fervent music yet. Each piece explores a different aspect of love and romance. Vocalese, originally for the soprano voice, portray the vocal lyricism and musicality of Marsalis' soprano saxophone. The "Rachmaninoff Vocalese" is an exceptional confirmation of the mastery of tone and musicianship that defines the music Marsalis is known for. Other well-known works, such as Debussy's L'Isle Joyeuse and Stravinsky's Pastorale, brilliantly contrast the air that Marsalis has played since 1981. The French and Russian compositions add a new dimension to the young Marsalis repertoire -- classical romantic." (Paula Edelstein, allmusic.com)
13 spår; speltid 53:31.
Debussy: l´Isle Joyeuse
Fauré: Pavane
Debussy: Arabesque No 1
Rachmaninoff: Vocalise
Stravinsky: Pastorale
Colombier: Emmanuel
Villa-Lobos: Bachianas Brasileiras No 5
Satie: Gymnopedie No 3
Ravel: Prelude
-"- : Piece en forme de habanera
Fauré: Sicilienne
Stravinsky: Serenata
Mussorgsky: The old castle
Pris:
100
kr